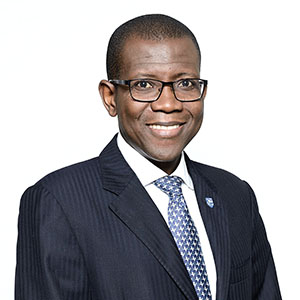 Mr. Sanni was appointed to the Stanbic Bank Board in 2019
Career Highlights
He is currently a Regional Chief Executive of Standard Bank with responsibility for West Africa. He was previously the Chief Executive of Stanbic IBTC Bank PLC, Lagos, Nigeria after a stint as Executive Director for Corporate and Investment Banking at Stanbic IBTC. Over the years, Mr. Sanni has held various positions in Stanbic IBTC including Deputy Chief Executive.
He currently serves as a Director of various Standard Bank Group entities including Stanbic Bank S.A. in Cote d'Ivoire, Stanbic IBTC Asset Management Limited and Stanbic IBTC Pension Managers Limited where he is Chairman. He was the Director of Financial Institutions Training Center (FITC) representing the Bankers Committee and was also a Council Member at the Chartered Institute of Stockbrokers representing the Bankers Committee.
Mr. Sanni holds a Master's degree in Business Administration from Obafemi Awolowo University, Ile-Ife and a B.Sc (Hons.) in Agricultural Economics from the University of Nigeria, Nsukka (UNN). He also holds certificates in Global CEO Program (GCP) from the Navarra University, New York and Advanced Management Programme (AMP) from the Harvard Business School, Boston both in the USA.