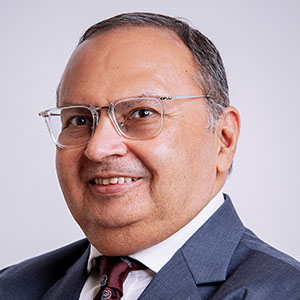 Ashok Ramchand Mohinani has served on the Stanbic Bank Board since 2013
Career Highlights
Ashok Ramchand Mohinani is the Executive Director of Mohinani Group, a third-generation family business with over 50 years of experience in multi-sector operations in various industries across the African continent. Ashok Mohinani oversees the operations of all the Ghanaian business units and subsidiaries from the headquarters in Accra.
He joined Mohinani Group in 1984 as Head of Sales for Poly Products & Poly Sacks, Ghana. He then eventually became the Deputy Managing Director of the Poly Group in 1987. From there, he took on the role of Managing Director of Somotex, Nigeria in 1991. He returned to Ghana in 1998 to assume the position of Executive Director of the Group.
Mr. Mohinani is a Member of the Board of Trustees, Postgraduate Endowment Fund, College of Health Sciences of the University of Ghana. He is also a member of the Economic Affairs Committee of Association of Ghana Industries. He is a past President of the Indian Association of Ghana and has also served on the board of Ghana International School.
He is also a founding member and past president of the Accra chapter of the Young Presidents Organization (YPO) and a fellow of the African Leadership Initiative West Africa (ALIWA). Mr Mohinani is Honorary Consul of Uruguay in Ghana and recently obtained an Executive Diploma on International Diplomatic Law for Honorary Consuls from the United Nations Institute for Training and Research (UNITAR).
Among the several awards Ashok Mohinani has won are the 2015 Industrialist of the Year by the Made in Ghana Awards, the 2016 Excellence in Business Awards by the Entrepreneur Foundation of Ghana and the 2019 CEO of the Decade Award by the Ghana Business Awards. He was also given a Special Recognition Awards—Sanitation Leadership Award in 2019. In 2020, Ashok Mohinani was adjudged Settler of the Year by the EMY Africa Awards as well as Outstanding Industrialist of the Decade by the Ghana Entrepreneur & Corporate Executive Awards.
Mr. Mohinani was educated at Saint Lawrence College in Ramsgate, Kent and went on to study Accounting at the London School of Accountancy in 1982, completing his studies in 1984. He had his primary education at the Ghana International School.